Hydro Jetting in Montville, NJ 07045
State-of-the-Art Equipment for All Your Sewer and Drain Needs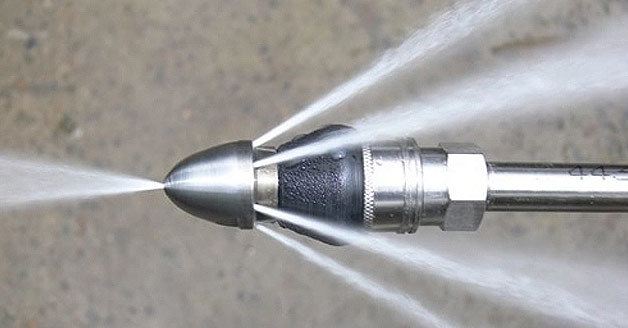 Valley Sewer & Drain additionally provides hydro jetting services to sanitize your drains. This Eco-friendly method of drain cleaning calls for no chemicals. High-pressure water eliminates dirt, debris, and build-up that is clogging your drains. If you want to intend to get all of the small blockages out of your drain, you can use hydro-jetting to clean every variation and turn of your pipes. Valley Sewer & Drain will then use a vacuum to suck all of the debris out of your system, leaving you with clean pipes that will no longer be clogged or continue to corrode.
Hydro Jetting - How it Works
One of the most efficient and powerful methods of cleaning away debris and buildup from sewer lines and the like is the use of high-pressure water streams. This form of power washing, or water jetting, scours sewer pipes with high-pressure water streams, giving the debris no chance against the forceful scrubbing. For your high quality, professional hydro jet cleaning services in Montville, NJ 07045 call Valley Sewer & Drain at 973-694-0024!
Hydro jetting is accomplished with the use of a large tank of water and a specialized high-pressure hose with a specially made nozzle. The specialized equipment is used to contain and focus the water pressurized by a machine to precisely loosen and spray away debris. Plumbing systems are designed to work with gravity – unless that is simply impossible depending on the placement of your property. Otherwise, a backflow prevention device is installed. Generally, this makes moving water in the right direction simple enough and natural. Hydro jetting professionals use this flow to our advantage by placing our water jetting nozzle at the "downstream" portion of the sewer system to clean debris away from "upstream" so that any loosened blockages flow easily and appropriately where it won't get caught by any further debris. Dislodged debris flows clear of your sewer lines, being swept away in a safe, fast, environmentally friendly manner by your expert plumber in Montville, NJ 07045.
Book a hydro jetting service today and watch your drains go from clogged and dirty to clean and fully functional!
Valley Sewer & Drain Cleaning
Steven Torrenti
2023-08-19
Total pros with great communication and quick response. 10yr + customer. Highly recommend.
Chris was very nice and knowledgeable Thank you!
Joseph Zazzera
2023-08-10
A crew of two guys, including the owner Ali came out for my clogged slop sink/and main drain pipe. They arrived the morning after I called, they were on time and did fantastic and clean job. Reasonable price. I can't thank them enough. Owner is a really nice conversational guy! And most importantly, I don't think I've ever seen my basement sink drain this fast!
Antonino Inchiappa
2023-08-06
Ali was the best in an emergency and the price for a late night call on Saturday was the most reasonable thing that happened in this crazy situation. Thank you Ali for you great customer service and your fast response!
Nicole Carroll
2023-08-04
Speedy on a Friday late afternoon. From calling their office to finish clearing out our mainline took a little over a hour. They were professional too. 10 out of 10 would recommend.
Came with a good reference and will highly recommend their services!
Irina Kuznetsov
2023-08-02
Al exceptionally professional and knowledgeable. He is honest, prompt, respectful and in general a very nice person to deal with. I used Valley Sewer and drain inc. several times since 2011, and they have always been able to fix the problems even after other plumbers were helpless. I highly recommend this company